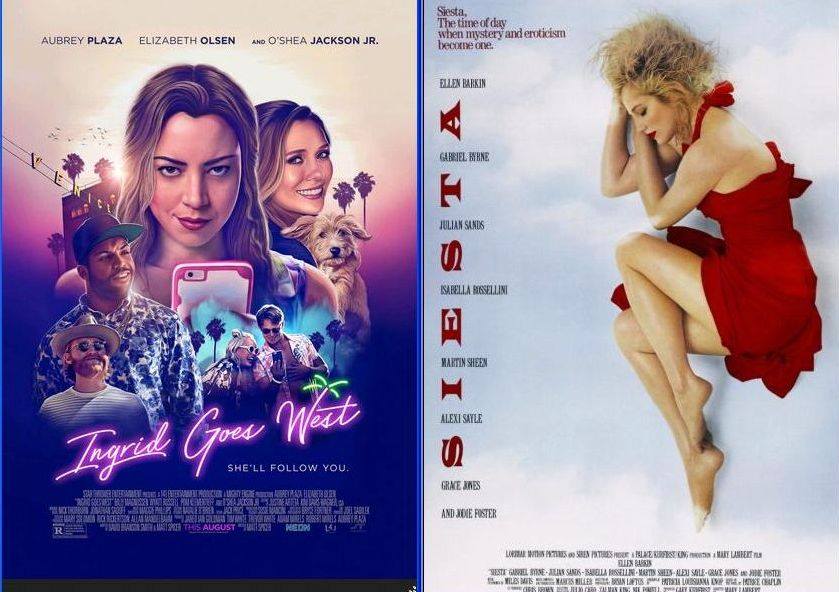 THE BRIGHT BULB SCREENING SERIES (Free Screenings on the Second Thursday of Every Month at The Rotunda) 
Double Feature!  INGRID GOES WEST (2017) and SIESTA (1987)
Two tales about identity,  hosted by Dan Buskirk (Fun 2 Know Podcast, WPRB-Princeton) 
 - - - - - - - - -
INGRID GOES WEST (2017, directed by Matt Spicer, 97 minutes, U.S.)
Wilmington, Delaware's Aubrey Plaza came up through the sketch comedy and stand-up world
before breaking through in 2009 with her supporting role on the NBC sitcom PARKS & REC.  Her feature film career started out strongly in 2012 with SAFETY NOT GUARANTEED but it proved difficult to conjure a vehicle that made the most out of Plaza's smart, deadpan persona.
The 2017 dark comedy INGRID GOES WEST is Plaza's most audacious showcase to date, Co-written and confidently directed by Matt Spicer, Ingrid is a sullen, slightly violent outcast, trying to get through post-high school life.  A sudden inheritance  gives Ingrid the freedom to move to Southern California  where she stalks and be-friends Taylor (Elizabeth Olsen), her Instagram idol.  Also mixed up in Ingrid's new life is her skeptical landlord Dan (played by O'Shea Jackson Jr,. Ice Cube's youngest son).
Like a modern take on Scorsese's KING OF COMEDY, Ingrid is a anti-hero in pursuit of a very modern fame, a fame unlikely to fill the obvious large hole within.  Plaza's ability to wring the maximum humanity out of this troubled and complicated character makes you hope she'll soon find more opportunities to explore her unique comic gifts.  More an edgy character study than raucous youth comedy, INGRID was dumped into theaters in late August of 2017 and never quite found the audience the dark satire deserved.
"The experience is akin to being kneaded by a cat - now soft paws, now sharp claws, alternately sweet and deeply uncomfortable."
- Matthew Lickona, San Diego Reader 
...and also on the bill...
SIESTA (1987, directed by Mary Lambert, 97 minutes, U.S.)
Mary Lambert (PET SEMETARY I & II) was uniquely positioned to make her feature film debut, SIESTA.  The videos she directed for Janet Jackson ("Control") The Eurythmics ("Would I Lie to You?") and especially Madonna (including "Material Girl" and "Like a Prayer") made her a talent with which everyone wanted to work.  Lambert played the audacious auteur role to the hilt.  
Based on a novel by Patrice Chaplin (Charlie Chaplin's daughter-in-law) Lambert's SIESTA is a dreamy tale of fractured identity with a touch of Fellini and Lynch.  The always-absorbing Ellen Barkin wakes up in the desert outside of Madrid, bruised and bloodied with someone else's blood. Is she really a daredevil skydiver who missed her target?  Helping her piece things together are flashbacks featuring a dream cast of mid '80's glamor, including Gabriel Byrne, Isabella Rossellini, Jodie Foster, Julian Sands, Martin Sheen and Grace Jones, with comic relief by Alexei Sayle from THE YOUNG ONES.  The film's erotic content help make it a steady rental from the "Cult" section of video stores nationwide.  Featuring a soundtrack that was a late-career highlight for Miles Davis, recorded in collaboration with bassist Marcus Miller.
"Miss Lambert's first feature has a game, mischievous spirit and a ripe bohemianism that are appealing...in its glossy, solemn and numbingly pretentious way, it's got high style."
 - Janet Maslin, The New York Times 
Admission is FREE