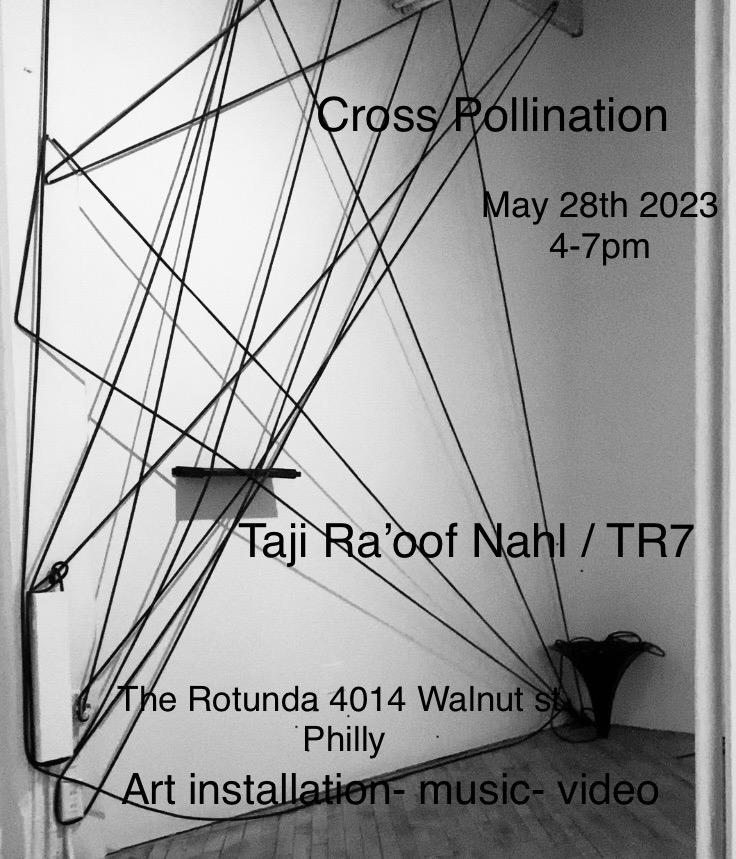 Ra'oof Atelier
in association with Marginal Utility
And Philadelphia Beekeepers Guild
pres.
Cross Pollination
A 21st century experiential 3 dimensional avant-garde art experience
Cross Pollination is the staged production, " a physical catalogues in a capsule " of the works by the conceptual artist Taji Ra'oof Nahl / TR7.
With invited guest artist, Nahl will feature seven vignettes exploring the depth & breath of his productions thru the years, via live music & videos. In addition Nahl will premiere a new work  extracted from his residency with Philadelphia Beekeepers Guild. Furthermore there'll be streaming between Marginal Utility Gallery, his current solo exhibition up until June 16th.
As a conceptual artist TR7 works through avant-garde modalities of art production (Bauhaus, Dada, Fluxus happenings) & embraces an egalitarian approach to materials. For this exhibition, TR7 will explore the gallery's spatial dynamics that will serve as an observatory that presents the ongoing creative research into his Calculating Banneker; Apis Project. TR7 will move between his concepts & four sites; Philadelphia Beekeepers Guild's Apiary at Awbury Arboretum, The Rotunda & The House of Schlesinger.
The ethos that permeates TR7's work—openness to the world, commitment to dialogue, collaboration, & human ecology will strike many chords through the exhibition & subsequent programing.
This installation surveys the vast collection of lens based media from his two decade career, along with new works created during the length of the exhibition.
The Rotunda
4014 Walnut St., Philadelphia
Sunday May 28th , 4-7pm
Marginal Utility
319 N 11th St. 2 fl., Philadelphia
May 5th-June 16th