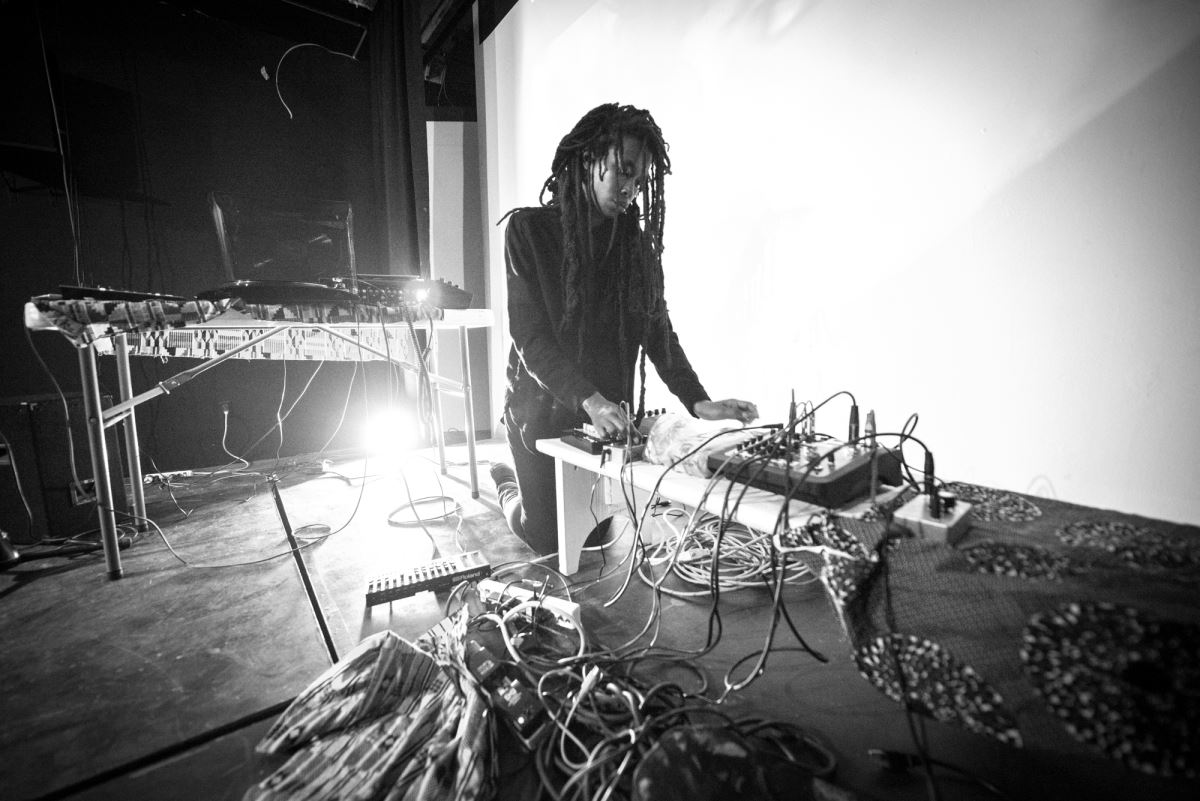 Bowerbird presents
Community Futurism: An Evening Curated By Moor Mother
The evening features two sets by Moor Mother, working under the theme of Community Futurism, in collaboration with Black Quantum Futurism and the Community Futures Lab. The first set includes improv collaboration of live instrumentation with drums, saxophone, bass, synth, and text. The second features music from the album Fetish Bones as well as unreleased songs by Moor Mother. Artists include Rasheedah Phillips, Madam Data, Keir on sax, Philip on drums, and George and Steve on bass. 

Camae Ayewa (Moor Mother) is a national and international touring musician and has performed at numerous festivals, colleges, and universities sharing the stage with King Britt, Islam Chipsy, Claudia Rankine, and Bell Hooks as well as opening on tour for Screaming Females. A soundscape artist with work featured at Samek Art Museum, Metropolitan Museum of Art Chicago, ICA Philadelphia, and Everson Museum of Art, Camae is also a vocalist in punk band The Mighty Paradocs and free jazz group Irreversible Entanglements. Camae is co-founder and organizer of Rockers! Philly, a 10-year long running event series and festival that focuses on marginalized musicians and artists spanning multiple genres of music. As Moor Mother, she released her debut album Fetish Bones on Don Giovanni Records. It was named 3rd Best Album of the Year by The Wire Magazine, #1 by Jazz Right Now, and appeared on numerous end of the year lists from Pitchfork, Noisey, Rolling Stone, and Spin Magazine. Moor Mother was named by Rolling Stone as one of 10 Artists to Watch in 2016 and named Bandcam's 2016 Artist of the Year. Camae also released her first book of poetry called Fetish Bones in Winter 2016 on The AfroFuturist Affair small press. As a member of Black Quantum Futurism Collective (BQF), she has been a part of two literary works and several zines, and has been featured in exhibitions at the Schomburg Center, Rebuild Foundation, Temple Contemporary at Tyler School of Art, and more. Camae Ayewa is a 2016 Leeway Transformation Award and Blade of Grass 2016 Fellow, has been an in artist in residency at West Philadelphia Neighborhood Time Exchange and WORM! Rotterdam residency, and will be featured with Black Quantum Futurism at Transmediale Festival in Berlin 2017. Moor Mother has appeared in the Quietus, the Fader, Vice and others. Moor Mother's upcoming schedule includes Berhaign, Safe as Milk Festival, CTM Festival, MoogFest, and Donau Festival.