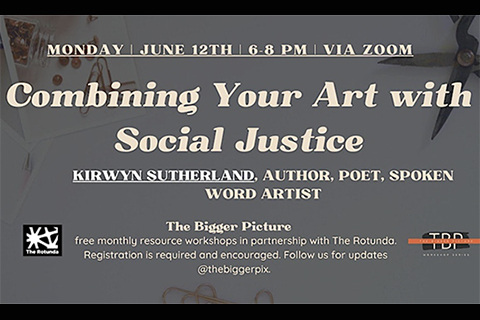 As long as communities face injustice and inequity, the arts will remain a platform to create social changes we desperately need." -  Asad Ali Jafri, Independent Cultural Producer
On Monday, June 12th, join us for Combining Your Art & Social Justice with Author, Poet, and Spoken Word Artist Kirwyn Sutherland.
In this virtual two-hour workshop, Kirwyn will facilitate as we dive deep into social justice and how we, as artists, can use our art as a medium for social justice impact.
WORKSHOP TOPICS INCLUDE:


The definition of social justice impact and its importance within communities.


Examples of how local artists inspire social justice awareness through their creative mediums


The importance of poetry, art, and music in promoting social justice and awareness.


Click here to register today!
The Bigger Picture is a free monthly resource workshop series connecting artists and arts organizations. This series is in partnership with The Rotunda, a community-gathering place fueled by the belief that art is a catalyst for social change and that the arts can lead to the formation of meaningful partnerships between the University of Pennsylvania and surrounding neighborhoods.
Attendees learn new skills, gain new resources, and meet and connect with other local artists.