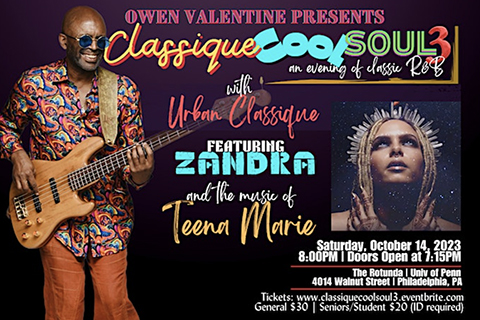 Owen Valentine Presents: Classique Cool Soul 3 - A Salute to Teena Marie 

Owen Valentine Presents: Classique Cool Soul is back in Philly! Spend an evening grooving to the soulful sounds of "Lady T" - Teena Marie
Join Vocalist, Violinist and multi-instrumentalist OWEN VALENTINE and his funky string troupe URBAN CLASSIQUE with an electrifying night of Classic Soul and R&B!
Saluting the music of Teena Marie aka "Lady T" featuring recording artist ZANDRA
Plus jam to the original music of Owen Valentine!
This show sells out quickly so get your tickets while they last!
Tickets are $20 (students and seniors (must present iD at the door)) and $30 (general admission). Please purchase tickets at
https://www.eventbrite.com/e/owen-valentine-presents-classique-cool-soul-3-a-salute-to-teena-marie-tickets-704991978987