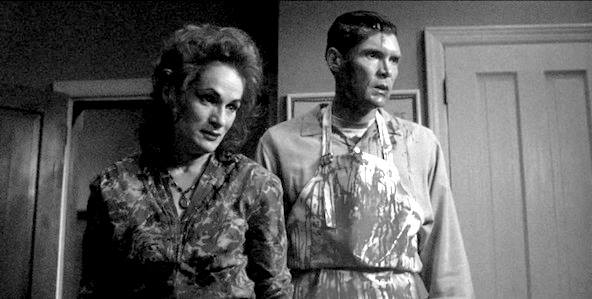 CinéSPEAK Double Feature: The People Under the Stairs / Get Out
Every 2nd Thursday of the month, you can catch a wide array of films atThe Rotunda, curated by filmmakers + presenters from all around the city.

OCTOBER 2018:
cineSPEAK : alternative cinema presents AN EVENING of SOCIAL HORROR -- with a DOUBLE FEATURE of WES CRAVEN'S THE PEOPLE UNDER THE STAIRS (1991) + JORDAN PEELE'S GET OUT (2017)
DOORS @ 6:30PM
FILM: THE PEOPLE UNDER THE STAIRS @ 7PM 
FILM: GET OUT @ 8:45PM 
ADMISSION: FREE!
BYODinner. cinéSPEAK will have popcorn + drinks for a donation.
---
ABOUT THE FILMS:
THE PEOPLE UNDER THE STAIRS (1991)
Written + Directed by Wes Craven
Starring: Brandon Adams, Everett McGill, Wendy Robie + A. J. Langer
Plot: When young Fool (Brandon Adams) breaks into the home of his family's greedy and uncaring landlords, he discovers a disturbing scenario where incestuous adult siblings have mutilated a number of boys and kept them imprisoned under stairs in their large, creepy house. As Fool attempts to flee before the psychopaths can catch him, he meets their daughter, Alice (A.J. Langer), who has been spared any extreme discipline by her deranged parents. Can Fool and Alice escape before it's too late?
Running Time: 1 hr 42 min 
GET OUT (2017)
Written + Directed by: Jordan Peele
Starring: Daniel Kaluuya, Allison Williams, Bradley Whitford
Caleb Landry Jones, Stephen Root, Catherine Keener, + Lakeith Stanfield
Plot: Now that Chris (Daniel Kaluuya) and his girlfriend, Rose (Allison Williams), have reached the meet-the-parents milestone of dating, she invites him for a weekend getaway upstate with Missy and Dean. At first, Chris reads the family's overly accommodating behavior as nervous attempts to deal with their daughter's interracial relationship, but as the weekend progresses, a series of increasingly disturbing discoveries lead him to a truth that he never could have imagined.
Running Time: 1 hr 44 min
--
ABOUT CINÉSPEAK:
cinéSPEAK is a Philadelphia-based organization that engages diverse audiences through our independent, repertory + foreign film programming; creating space + centering the stories of individuals and communities that are often underrepresented in mainstream cinema.
cinéSPEAK promotes community togetherness + global understanding by engaging film enthusiasts while cultivating the next generation of discerning moviegoers; encouraging people to demand social justice both on-screen + throughout society.
cinéSPEAK is a proudly-sponsored project of CultureTrust Greater Philadelphia, a charitable 501(c)(3) trust supporting diverse cultural practices in the Philadelphia region.
Follow the Journey! 
@cineSPEAK - IG + Twitter
cineSPEAK : alternative cinema - Facebook