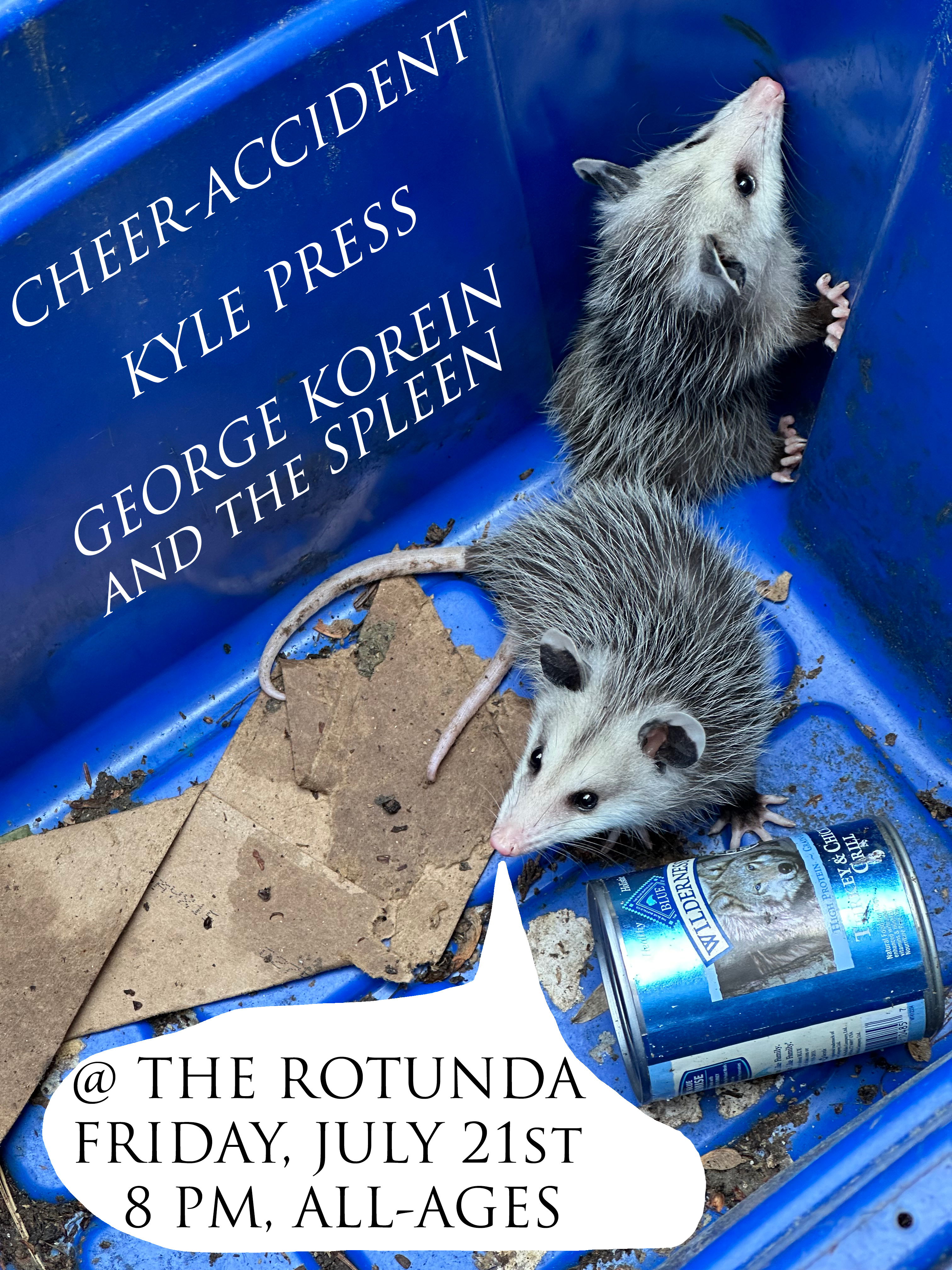 Cheer-Accident
Kyle Press
George Korein and the Spleen
CHEER-ACCIDENT
Hailing from the singularly vibrant musical hotbed known as Chicago, CHEER-ACCIDENT has been a creative, vital force in rock music for over 30 years. They constantly strive to surprise their audiences and themselves through relentless reinvention. From dreamy pop to angular art-rock, CHEER-ACCIDENT strikes a powerful balance between personalized and unique studio wizardry and the visceral excitement of a well-honed, explosive live rock band. The band is currently a octet, comprising of various members who have come and gone throughout the past two decades. Their body of work is unparalleled in its ambition and originality.
Current lineup:
Jeff Libersher- guitar, trumpet, vocals
Alex Perkolup- bass
Mike Hagedorn- trombone, slide trumpet, tuba
Thymme Jones- drums, vocals, trumpet
Laura Boton- vocals
Cory Bengtsen- woodwinds, synth, drums
DroneLayer- keyboards, vocals
Ross Feller – woodwinds
https://www.cheer-accident.com
KYLE PRESS
Always the strangest member of the various groups in which he performs, Kyle has one foot in funk and psych bands, one foot in free jazz/improvised music and another more recent foot in his abstract electronic music. His (2019) solo tape on No Rent Records is chock full of the unbridled weirdness that he usually uses more sparingly in his more conventional band projects, like wrong-note saxophone solos, super loud throat singing when you least expect it, electronic squeals and guttural noises. 
https://kylepress.bandcamp.com/.../overtones-drones-and...
GEORGE KOREIN AND THE SPLEEN
George Korein was born in a Wawa in Philadelphia and still lives in Philadelphia in a Wawa. He makes songs that mostly have singing and "and the Spleen" rhymes with Korein. A lot of the music is made almost alone but some is made with awesome musicians he won't list here because that would be name dropping. People ask "What kind of music do you make?" and he still hasn't worked up the pomp to say "Art Pop". 
https://georgekorein.bandcamp.com
Admission: $5-10 suggested donation