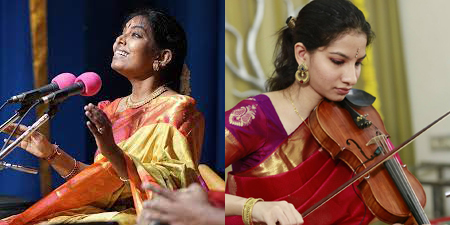 Fire Museum Presents!
Tonight we bring you vocal & instrumental South Indian Carnatic music with performances by Brindha Manickavasakan (vocalist) & Shreya Devnath (violin).
first set: Brindha Manickavasakan- Vocals, accompanied by Madan Mohan - Violin & Praveen Sparsh - Mridangam.
second set: Shreya Devnath - Violin, accompanied by Delhi Sairam - Mridangam & K V Gopalakrishnan - Kanjira
Brindha Manickavasakan is a Carnatic Music vocalist, among the foremost, popular young performing Carnatic musicians in India. She is currently learning from Vidushi Suguna Varadachari. She has been performing for the past 21 years, from the age of 10. She also plays the Veena and has learnt Bharatanatyam under Melattur Sri S Natarajan. She is known for her rich voice, bhava, sensitivity, variety, creativity in her music.
-------
Shreya Devnath, a vocalist and well-established solo violinist, has earned much appreciation for her distinctive music. A student of the legendary Carnatic musician, Sri Lalgudi Jayaraman, Shreya strives to be a worthy representative of this prestigious school. The recipient of a number of awards and titles, her accolades include the highly acclaimed Bharat Ratna Dr. MS Subbulakshmi Fellowship and Outstanding Woman Achiever.
Thanks for watching!