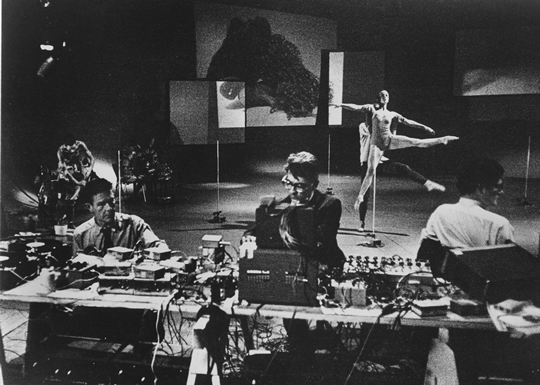 CAGE, TUDOR, RAUSCHENBERG: 9 EVENINGS
50th anniversary documentary film screening of 
JOHN CAGE "Variations VII" (41 mins) 
DAVID TUDOR "Bandoneon ! [a combine]" (39 mins) 
ROBERT RAUSCHENBERG "Open Score" (33 mins)
Bowerbird is pleased to screen three documentary films marking the 50th anniversary of "9 Evenings: Theatre and Engineering". 
In 1966 ten New York artists and thirty engineers and scientists from Bell Telephone Laboratories collaborated on a series of innovative dance, music and theater performances, "9 Evenings: Theatre & Engineering", held in October at the 69th Regiment Armory in New York City. The artists were John Cage, Lucinda Childs, Oyvind Fahlstrom, Alex Hay, Deborah Hay, Steve Paxton, Yvonne Rainer, Robert Rauschenberg, David Tudor and Robert Whitman. 
For these films, archival material has been combined with interviews with the artists, engineers and performers to illuminate the artistic, technical and historical aspects of the work. 
Variations VII, performed at 9 Evenings, was the next to last in John Cage''s series of indeterminate works that he had begun in 1958, which made increasing use of electronic equipment and systems. This DVD documents the only complete performance of Variations VII and also presents a stereo audio recording of the full 85 minutes of the performance. 
Bandoneon ! (a combine) is David Tudor's first full concert work as a composer. Tudor played the bandoneon as the input into a complex sound and visual modification system that moved sound from speaker to speaker and controlled lights and video images, creating a work that animated the entire Armory space. This DVD documents the performance with film and vintage photographs as well as interviews with the performers, engineers and Tudor's fellow composers. 
is the first film to be released in a series that will bring to life a historic moment in contemporary art history. In Open Score , Robert Rauschenberg derived the content of his performance from the characteristics of the performance venue. The tennis racquet suggested both the idea of the ready-made (at other times tennis was played at the Armory) and that of a dance improvised in accordance with specific rules.
Admission is FREE