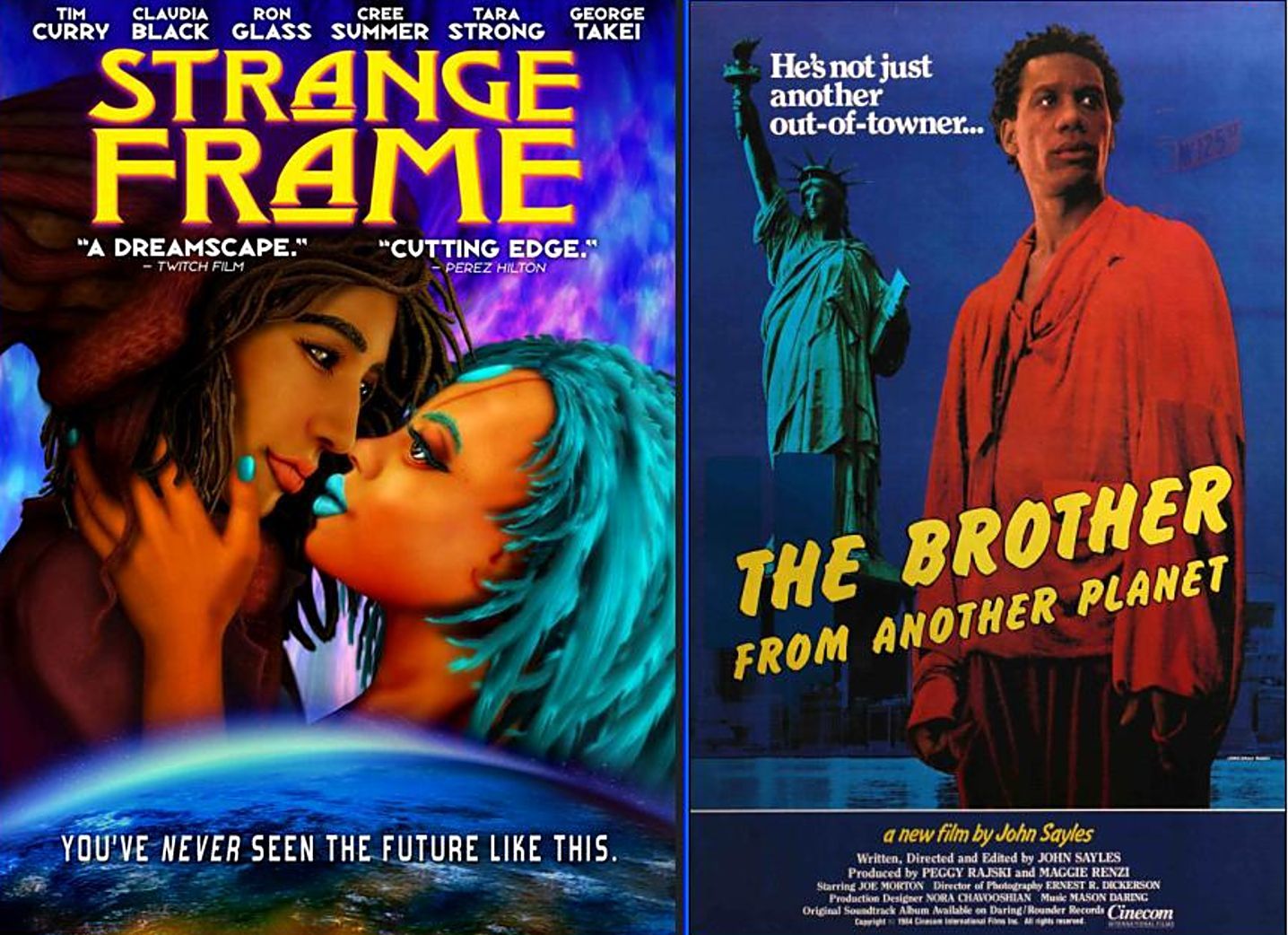 Afro-Future Double Feature! Hosted by DM Hotep, guitarist w/ The Sun Ra Arkestra!
STRANGE FRAME (2012) and THE BROTHER FROM ANOTHER PLANET (1985)
- - - - - - -
STRANGE FRAME (2012, directed by G.B. Hajim, 98 minutes, U.S.)
G.B. Hajim's one-of-a-kind lesbian sci-fi musical fantasy uses cut-out animation to bring to life a neon radiant future. Here, a pair of debt slaves form a band and fall in love before the soul-sucking music industry (literally) tears the lovers apart. The widely-acclaimed feature is a dreamlike dazzler, creating an fascinating, multifaceted world one could imaging springing from our own. Produced in Hawaii, with voice work from Cree Summer, Michael Dorn, Tim Curry, Ron Silver, and George Takei.
BROTHER FROM ANOTHER PLANET (1984, directed by John Sayles, 108 minutes, U.S.)
John Sayles' sci-fi immigration tale features an unforgettable Joe Morton as a mute visitor from outer space who learns to make his way in the New York City of the 1980s . Full of quietly magical moments, plus director Sayles as one of two interplanetary bounty hunters in pursuit. Shot by Ernest Dickerson, cinematographer of Spike Lee's early classics.
"There are individual moments here worthy of a Keaton"
Roger Ebert, Chicago Sun-Times
- - - - - -
Masking and contract tracing enforced. Seating is limited.
COVID POLICY
- 75 people MAX will be permitted in the venue during an event. This includes audience and staff.
- Everyone over the age of 2 will be required to wear masks indoors, regardless of vaccination status.
We will engage in contact tracing. We will register attendees and ahead of time or at the front desk, depending on the event, and will require them to alert us if they become sick after the event


Follow brightbulbscreenings on Instagram, Facebook....