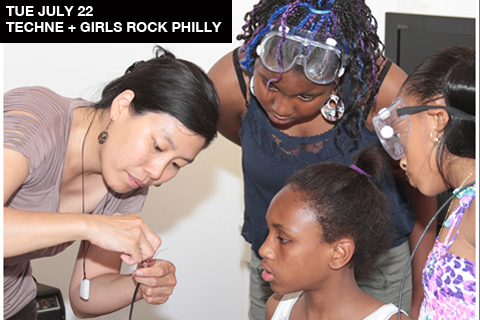 Bowerbird 
presents
a special edition of the Gate series

TECHNE + GIRLS ROCK PHILLY
Bonnie Jones and Suzanne Thorpe in collaboration with young women from Girls Rock Summer Institute.
Please join Bowerbird for a special concert featuring young musicians (ages 13 - 18) from Girls Rock Philly in collaboration with sound artists Bonnie Jones and Suzanne Thorpe. This event is the culmination of a two day workshop called "ARISE: A Dynamic Musical Environment for Change" led by TECHNE at the Girls Rock Summer Institute. TECHNE, an arts education initiative of Jones and Thorpe, lead workshops combining sound, technology and musical improvisation. 

Preceding this concert, TECHNE taught the students how to build instruments with DIY electronics and contact mics, explore creative sound-making techniques, and collaborate together in a group improvisation. 

Through their programs TECHNE aims to empower young women, increase their involvement in technology, and inspire them to engage in creative and innovative music practices. After the workshop, the girls take home a unique, self-crafted instrument and, we hope, a new and fresh perspective on music making and self-expression.
Admission is FREE
Addtional Images