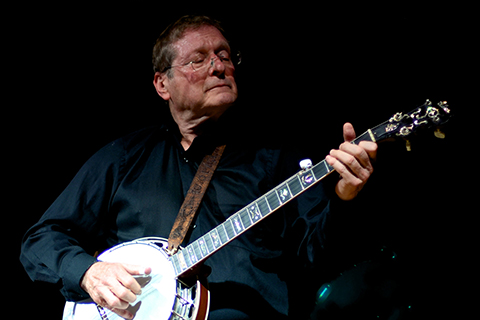 Bowerbird is pleased to present a rare performance by George Stavis, an American banjo player perhaps best known for his 1969 album Labyrinths , an album considered a landmark in the development of improvisational banjo performance. Opening the evening will be Elkhorn, the Philadelphia based guitar duo Jesse Sheppard and Drew Gardner, who are celbrating the release of their new album Distances , out this September 2022.
ABOUT THE ARTISTS
George Stavis is a singular player, among the finest 5-string banjo players of his generation. Although trained in the traditions of Pete Seeger and Earl Scruggs, in the late 1960s Stavis developed a unique approach to the instrument which expanded it in both popular and exotic directions. His first solo album, Labyrinths, on the Vanguard label, is considered a landmark for improvisational performance (". . . one of the essential albums, in any genre, of the 1960s." –Glenn Jones), one that brought the banjo into the "world music" category, with its evocations of jazz, classical and Indian music. Later, Stavis developed the electric banjo, fronting a popular West Coast band, Oganookie, who performed up to 160 nights per year. In the mid-'80s, Stavis released a folk orchestral album, Morning Mood, which featured his long-time collaborator, violinist / fiddler Robert Stern, and included such notables such as Darol Anger and Mike Marshall on violin and mandolin, respectively. Stavis has performed on eight recordings, including four as principal, and has opened for such artists as Richie Havens, Neil Young, the Grateful Dead and Jean-Luc Ponty, as well as performing duets with the another of the banjo's most notable innovators, the late Bill Keith. His early work has recently been re-released in Italy and the UK, and a recent solo piece can be heard on Imaginational Anthem, Vol. 3 (Tompkins Square). Though he has not been an active performer in recent years, he still plays out from time to time, and recently performed to a rapt audience at the Thousand Incarnations of the Rose Festival of American Primitive Music. Stavis currently lives in Dobbs Ferry, New York.
The guitar music of Elkhorn is rooted in the interplay of Jesse Sheppard's twelve-string acoustic fingerpicking and Drew Gardner's electric lead. Their music draws from folk, psych, blues, and jazz sources. This evening they will be joined by Ian McColm on drums, who plays on their new LP "Distances," available September 16th on Feeding Tube Records. As Byron Coley writes, "This formation is capable of psyching-out with pure guitar force. The Ouroboran elements of open-form improvisation-based music really gel when the snakes are encouraged to eat their own tails."
HEALTH & SAFETY
This is an "in person" event.   In consideration of the ongoing pandemic and the safety of those in our community, Bowerbird is requiring all audience members, staff, and performers to wear a mask while inside the venue (please note that musicians will have the option to perform without masks once on stage).

More info: https://www.bowerbird.org/event/george-stavis-2022/
Admission is FREE/pay-what-you-wish