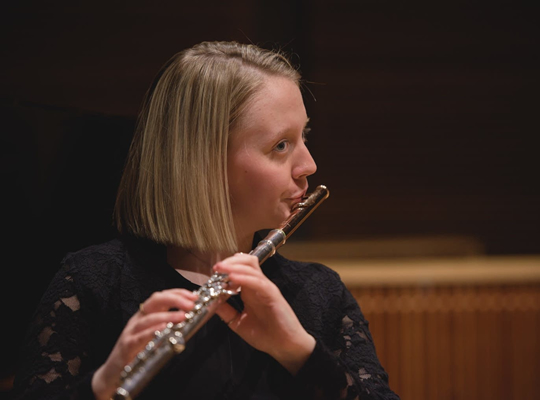 Bowerbird is excited to present Emma Resmini, an extraordinary young virtuoso performing a program of contemporary music for flute. The program includes "Flautina" from Stockhausen's opera "Montag aus Licht" and Dai Fujikura's "Poison Mushrooms", a threnody to the victims of the Hiroshima bombing. 
Emma began playing at flute at the age of three and is now a senior at the Curtis Institute of Music. Beyond the classical canon, Emma is also an avid performer of new music. A review of her performance at the 2016 New Music Gathering raved, "Emma Resmini stunned the crowd." (I Care If You Listen) At the Curtis Institute of Music she was a featured soloist in the tribute concert to composer Kaija Saariaho, performing NoaNoa for flute and electronics, and as a member of the Curtis 20/21 Ensemble.As an advocate of emerging composers, she has performed the world premiere of over twenty new works. She is also in her third season with the Arcana New Music Ensemble. 
PROGRAM
Karlheinz Stockhausen (1928 - 2007) : "Flautina" (1989)
Marcelo Toledo (b. 1964): "Aliento /Arrugas" (Breath/Furrows) (1998) 
Michel van der Aa (b. 1970): "Rekindle" (2009)
Kalevi Aho (b. 1949): "Solo III" (2001)
Dai Fujikura (b. 1977): "Poison Mushroom"
Amy Beth Kirsten ( b. 1972): "Pirouette On a Moon Sliver" 
Mario Diaz de Leon (b. 1979): "Luciform"
Admission is FREE