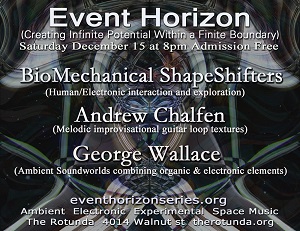 Event Horizon Series
presents
BioMechanical ShapeShifters, Andrew Chalfen, George Wallace
BioMechanical ShapeShifters (or BioMeSS for short) is the project of Floyd Bledsoe from Ewing, New Jersey. He has been using this name for his electronic music experimentation since the early 1990s. Starting in 2010, BioMeSS began releasing music on the internet and now there are over 40 albums available on the Bandcamp website with many containing several hours of music each. Mainly experimental in nature, the music of BioMechanical ShapeShifters covers a broad spectrum stylistically. Genres from such diverse categories as harsh noise to quiet ambient drones are explored in detail. There is an aim to showcase various electronic devices and explore their capabilities and features Floyd is also one-third of The Melting Transistor and has recorded several dozen albums with them as well as many live appearances. He has also performed live on Mike Hunter's "Music with Space" program, the Cosmic Crossings concert series and the North East Electro Music festival (NEEMfest) held in central New York state. December 2018 will mark the first BioMeSS appearance at the Event Horizon concert series.
Andrew Chalfen has led and been a member of many bands. His first band, The Wishniaks (1986-91) toured the U.S. extensively and released two albums, an ep, two singles, and tracks scattered across various compilations. A video managed to be appear twice on MTV's 120 minutes. Chalfen has since been a member of the Barnaby's, Bundtcake Vesuvius, Gimme, the Shimmers, Joey Sweeney, and Helen Back and the Str8 Razors. In 1995 he formed the Trolleyvox, which over the next 10 or so years with a a rotating cast of musicians (but mainly Beth Filla) released five albums and also did it's fare share of touring before a career in music completely stopped making sense. There is a 6th Trolleyvox album nearing completion.
Throughout Chalfen has been recording instrumental music, first on a 4-track cassette, then on various digital apparatuses. In late 2011 he and occasional collaborator Dean "Clean" Sabatino (the Dead Milkmen) finally got around to making an album. They teamed up with musician/recording engineer/author/old pal J. Robert Lennon to form I Think Like Midnight. The record, released in Fall 2014, is called Warm Seclusion Structure. The recording of a follow-up album is underway (as of Fall 2016). Additionally, Chalfen is currently working on an album with bassist Owen Biddle (the Roots, Edit Bunker, Mr. Barrington, The Trolleyvox) which they might characterize as spooky loop-based acoustic folktronica. Chalfen is also a musician and co-writer in Velvet Kirtan with Beth Filla, and has been stretching his live guitar skills and making new neural connections in the bands of Adrien Reju and Matt Keating. 
George Wallace is a schooled, veteran composer, multi-instrumentalist, songwriter, producer, singer,  and recording artist, originally from Philadelphia who currently lives in Lancaster, PA. In recent years he has focused his creative passions on presenting dazzling arrays of wondrous, imaginatively crafted soundscapes, bound to delight fans of spacemusic, techno-tribal, and those with a fascination for electronic/organic hybrids.
The body of Wallace's work, both recorded and in concert,  explores the more melodic side of what has been called 'ambient' music (although the term 'ambient' itself is a kind of misnomer). He also shies away from words like 'experimental', as he jokingly likes to say he knows exactly what he's doing…though he quickly confesses that's not always true! The personality of his music is evidenced by the wide range of influences he can name, some of whom are Jade Warrior, Jonn Serrie, Robert Rich, Brian Eno, Jimi Hendrix, and the film scores of Mark Isham and Thomas Newman. Notably absent here is the mention of the oft-derived Berlin School, which Wallace concedes  he is only indirectly inspired by.
Presented here is wild, psychedelic, enriched sound, simultaneously borrowing from the primal past and the celestial future, creating a memorable experience of exotic places and times well beyond this one. As ever, we are encouraged to 'go as deep as you can go…'
Admission is FREE