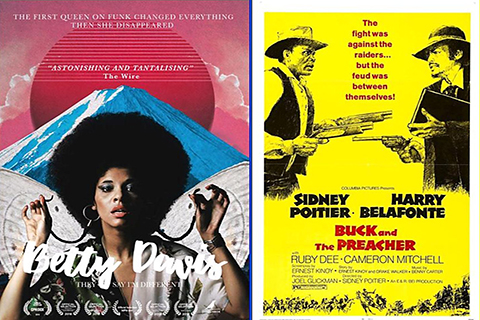 MEMORIAL DOUBLE FEATURE!
(Hosted by Dan Buskirk - WPRB, Fleisher Arts Memorial)
BETTY DAVIS: THEY SAY I'M DIFFERENT (2017, directed by Philip Cox, 55 minutes, U.K./France/U.S.)
BUCK & THE PREACHER (1972, directed by Sidney Poitier, 102 minutes, U.S.)
An evening celebrating two artists who have recently passed away.
THEY SAY I'M DIFFERENT
tells the story of Betty Mabry, who in the mid-sixties came from North Carolina to New York City where she modeled, wrote songs, and in 1968 became Miles Davis' second wife. Widely believed to inspire his "Electric Miles" phase, Davis would go on to release three album of outrageous, sexually charged funk to modest success before leaving showbiz around 1980. Her music was reissued in 2007 to great acclaim, but where was Betty? Philip Cox's documentary illuminates Davis' mystery without dispelling it, bringing a visual flourish to her journey and showing us today what the world was not ready for in her time.
BUCK & THE PREACHER
kicked off the actor Sidney Poitier's successful directing career and was one of the very first films the major studios released to be directed by an African American. It is also one of the great revisionist westerns of the 1970s. Shot in Mexico, BUCK tells the story of formerly enslaved people just after the Civil War looking to escape Louisiana and head for farm land in Kansas. Poitier's "Buck" is hired to guide the caravan through Indian country but he does not know that embittered former Confederates have been hired to thwart the the wagons and send the group back to Louisiana. Harry Belafonte is "The Preacher," a charlatan whose conscience might be awakened by the peoples' plight. Ruby Dee, Clarance Muse and Cameron Mitchell also star.
The show begins at 8:00 pm. Admission is free.
Masking and contract tracing enforced. Seating is limited.
COVID POLICY
- 50 people MAX will be permitted in the venue during an event. This includes audience and staff.
- Everyone over the age of 2 will be required to wear masks indoors, regardless of vaccination status.
- We will engage in contact tracing. We will register attendees and ahead of time or at the front desk, depending on the event, and will require them to alert us if they become sick after the event