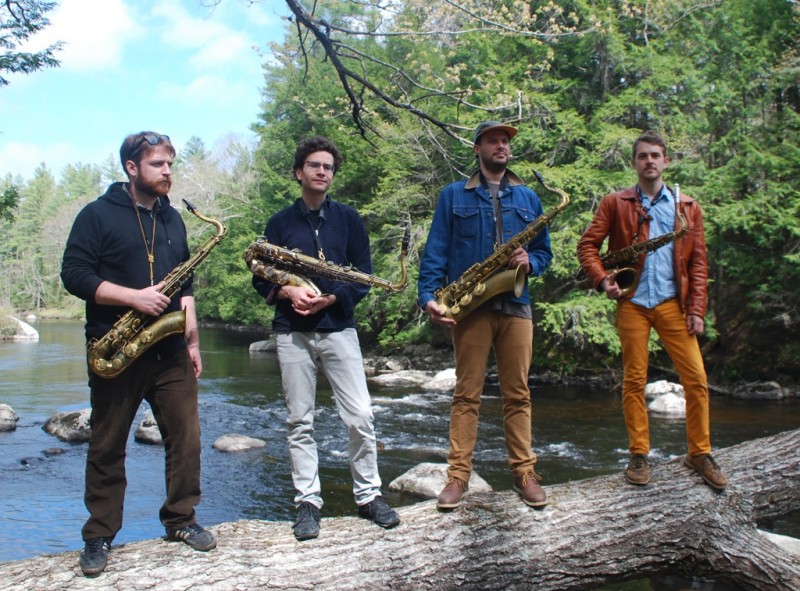 Ars Nova Workshop
presents
Battle Trance
Travis Laplante, tenor saxophone
Matthew Nelson, tenor saxophone
Jeremy Viner, tenor saxophone
Patrick Breiner, tenor saxophone
Ars Nova Workshop is pleased to present the expansive tenor saxophone quartet Battle Trance, celebrating the release of their second album, "Blade of Love."
The follow-up to their acclaimed 2014 debut Palace of Wind, Battle Trance's sophomore release Blade of Love comprises a single, densely textured composition by bandleader Travis Laplante that focuses on the physical and spiritual intersection of the saxophone and the human body. The saxophone is one of the few instruments that literally enters the body of the person playing it, and Blade of Love is a medium for this sacred meeting place, with each member of Battle Trance using the saxophone as a vessel for the human spirit. The album was recorded in a wooden room with soaring ceilings in the Vermont forest, after the group spent two years of rigorous rehearsals working to perfect the array of extended techniques, both virtuosic and primal, required to bring the challenging piece to life.
The Chicago Reader wrote that their music's "absence of familiar structures and vocabulary forbids you from using mental shorthand to process this music—with its intricate textures and priestly patience, it invites you instead to awaken to full presence."
The four members of Battle Trance have performed with Tune-Yards, Little Women, Tim Berne, Gerald Cleaver, Michael Formanek, Trevor Dunn, Ingrid Laubrock, Steve Lehman, Weasel Walter, Mat Maneri, John Hollenbeck, Tyshawn Sorey, Peter Evans, and many others. The group formed in 2012 after Laplante awoke one morning with the crystal clear vision that he needed to start an ensemble with three specific individuals: Matthew Nelson, Jeremy Viner, and Patrick Breiner.  Laplante was actually unfamiliar with their work as musicians and had only a minimal relationship with them as individuals, but the ensemble formed that evening and has since evolved an adventurous, volatile and highly charged language of their own.
Links: 
Battle Trance "Blade of Love" | Press
Battle Trance "Blade of Love" | Official Album Trailer
Admission is FREE