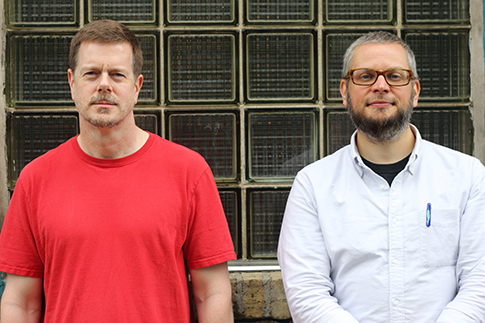 Vandermark / Wooley Duo
Ken Vandermark, reeds
Nate Wooley, trumpet
Ars Nova Workshop is pleased to present the duo of multi-reedist Ken Vandermark and trumpet stalwart Nate Wooley.
Chicago-based saxophonist/composer Ken Vandermark and New York trumpeter Nate Wooley had been operating in each other's orbits for several years before putting together their duo project in October 2013. They'd worked together with Paul Lytton, Joe Morris, Agusti Fernandez, and Terrie Ex-, when they toured the United States for the first time.  With their unique pairing, they deal directly with each other's iconoclastic compositional and improvisational vocabularies, and have created a book of original material that takes inspirational cues from the under-appreciated work of John Carter and Bobby Bradford (two of their compositions are part of the group's repertoire).  Vandermark and Wooley have worked together to create an organic combination of the jazz tradition, free improvisation, and modern composition, and have then placed it into the raw and intimate context of this duo.
The duo has since released two recordings together: East by Northwest (2014), comprising both live and studio material, and All Directions Home (2015), documenting a performance at Milwaukee's The Sugar Maple. Writing for The Free Jazz Collective, Lee Rice Epstein called the duo "a fruitful one, bridging their deep interests in jazz history and tradition with their equally unique talents using extended techniques and crafting avant-garde compositions."
As Tad Hendrickson wrote recently in JazzTimes, "The level of Vandermark's activity would seem to indicate a clone at work simultaneously, a celebrity-level personal management team, or someone unburdened by the need for sleep." His current activity includes work with Made To Break, Lean Left, Side A, Shelter, Fire Room; duos with Paal Nilssen-Love, Tim Daisy, and Nate Wooley, as well as work as a solo performer. In addition, he is the music director of the experimental Pop band, The Margots, and since June of 2015 has been co-curator of Option, a music series held on a weekly basis at the Experimental Sound Studio in Chicago.
Since moving to New York in 2001, Oregon native Wooley has become one of the most in-demand trumpet players in the burgeoning Brooklyn jazz, improv, noise, and new music scenes.  He has performed regularly with such icons as John Zorn, Anthony Braxton, Eliane Radigue, Ken Vandermark, Fred Frith, Evan Parker, and Yoshi Wada, as well as being a collaborator with some of the brightest lights of his generation like Chris Corsano, C. Spencer Yeh, Peter Evans, and Mary Halvorson. Wooley's solo playing has often been cited as being a part of an international revolution in improvised trumpet, considered, along with Peter Evans and Greg Kelley, one of the leading lights of the American movement to redefine the physical boundaries of the horn.
Admission is FREE