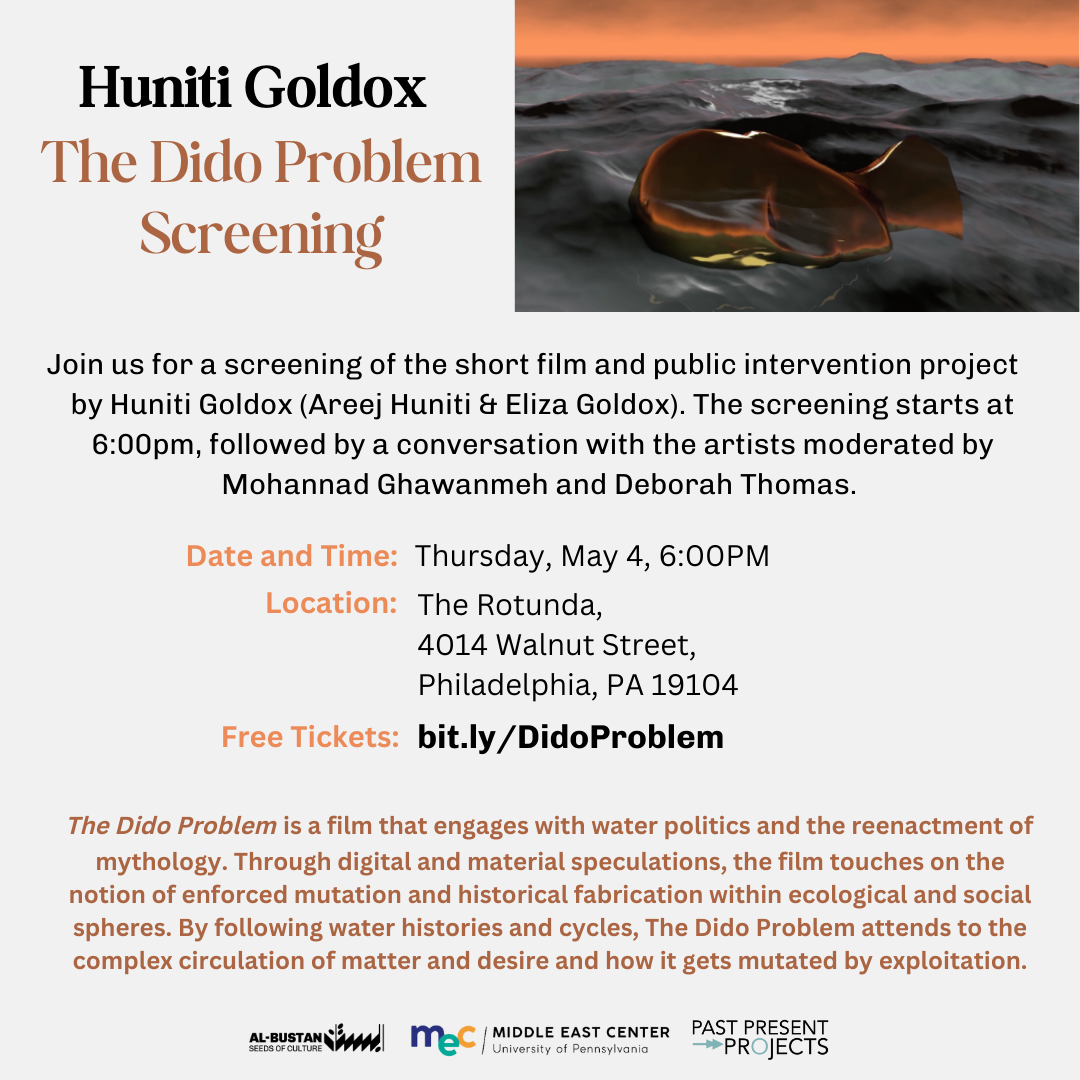 Al Bustan presents 
The Dido Problem Screening
Join us for a screening of the short film and public intervention project The Dido Problem by Huniti Goldox (Areej Huniti & Eliza Goldox). The screening starts at 6:00pm, followed by a conversation with the artists moderated by Mohannad Ghawanmeh and Deborah Thomas.
Film Summary: The Dido Problem is a film that engages with water politics and the reenactment of mythology. The starting point is re-imagining the myth of Dido and her resistance towards oppression and territory. Through digital and material speculations, the film touches on the notion of enforced mutation and historical fabrication within ecological and social spheres. By following water histories and cycles, The Dido Problem attends to the complex circulation of matter and desire and how it gets mutated by exploitation.
Film Duration: 31 minutes
HUNITI GOLDOX is an artist duo consisting of Areej Huniti & Eliza Goldox. In their practice they are interested in how political systems, transitions and violence affect water bodies and landscapes. Through contextual examinations of geopolitical realities, marginalized oral histories and mythologies they create films, videos, VR-works, installations, conversations, texts, workshops and interventions. They started with a project on a buried river in Amman/ Jordan and extended to the swamp lands and Mediterranean coast of Tunisia, the artificial lake-land of Leipzig and the urban development projects around Tirana River.
Areej Huniti received an MA in Global Digital Cultures from SOAS University of London and Eliza Goldox was awarded an MA in Art & Design at Chelsea College/University of the Arts London. Their collaborative work was exhibited and screened at Darat Al Funun, The MMAG Foundation & The Jordan National Gallery, Goethe Institute in Amman, SomoS Art House in Berlin, School Of Waters/ Biennale Mediterranea in San Marino, Sheffield Film Festival, D21 in Leipzig, TBA Academy/ Ocean Uni, Tirana Art Lab, Manifesta 14 in Kosovo and Hauser & Wirth Menorca.
Admission is FREE but registration is required. Please register HERE