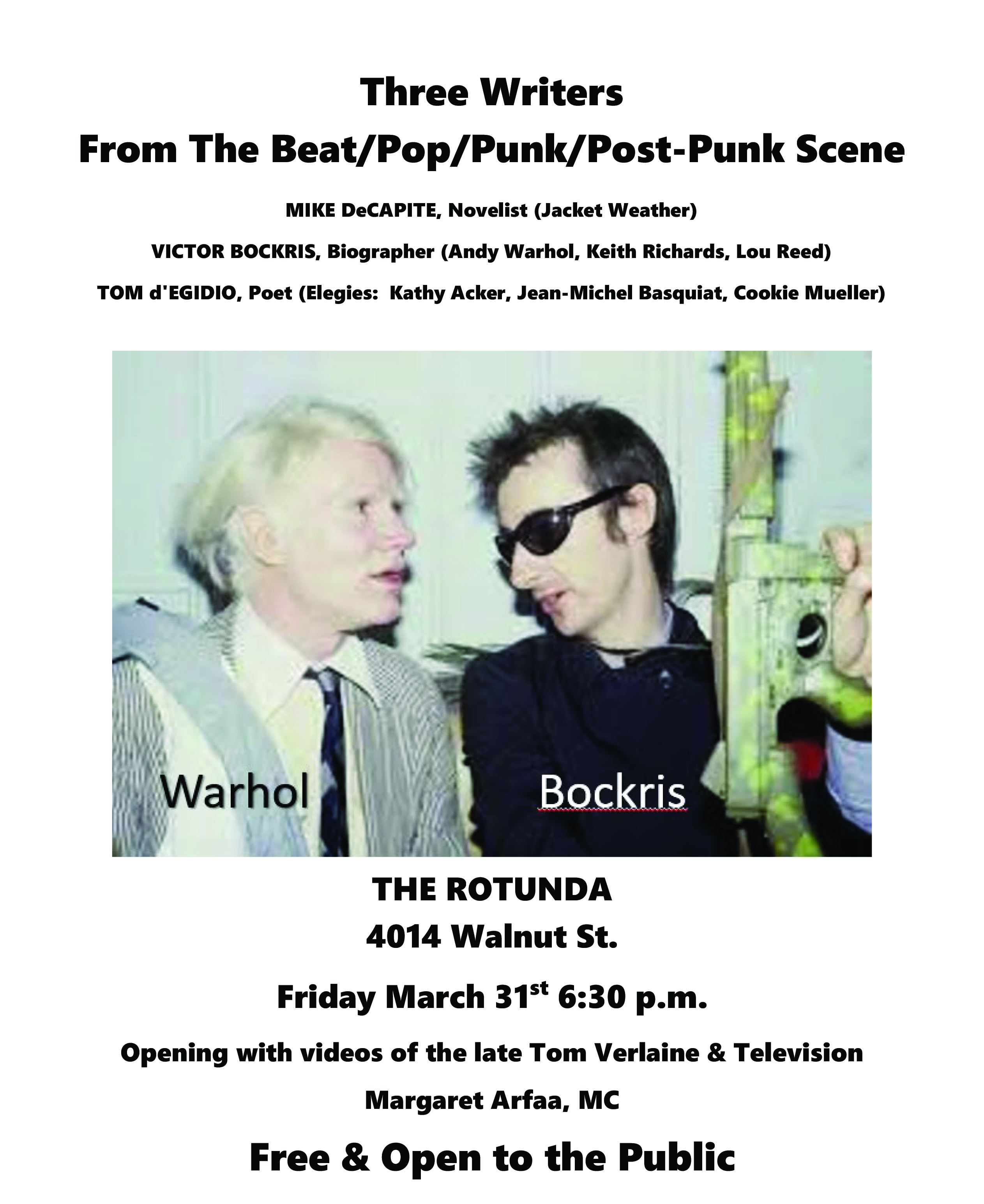 3 WRITERS FROM THE BEAT/POP/PUNK/POST PUNK SCENE
Friday, March 31st, at 6:30pm  (starting with video of Tom Verlaine & Television)

Novelist Mike DeCapite's first appearance in print was in 1988 in CUZ Magazine, edited by Richard Hell. His books include the novel Through The Windshield (1998), and the collection of short prose, Radiant Fog (2014). He will read from his novel Jacket Weather, published by Soft Skull in 2021, about which Google Books says: "Nick Hornby meets Patti Smith, Mean Streets meets A visit From The Goon Squad in this quintessential New York City story about two people who knew each other in the downtown music scene in the 1980s, meet again in the present day, and fall in love". Chris Kraus calls it "Poetic and compulsively readable".

Biographer Victor Bockris was friend & confidante to Andy Warhol, William Burroughs, Joey Ramone & many other key figures of the 70s & '80s Downtown Scene. His Telegraph Books imprint published Patti Smith's first poetry collection in 1972. He appears in the film Downtown '81, starring Debbie Harry & Jean-Michel Basquiat. He is the author of over 20 books, of which The Life and Death of Andy Warhol is considered a classic. He is currently writing a memoir with the working title of In Search Of The Magic Universe. He will read excerpts from his books on Andy Warhol, Keith Richards, & Lou Reed.

Poet Tom d'Egidio lived among the artists, musicians & writers of Downtown Manhattan in the 70s & 80s. He is a member of the Suppose An Eyes poetry group at Penn's Kelly Writers House, & serves as Director-At-Large of the NY Browning Society. His poetry chapbook, The Enigma Of Arrival, is published by Underground Books.  He is currently completing a novel set in Downtown Manhattan c. 1980. He will read a few elegies in memory of deceased presences on the Downtown Scene, including Kathy Acker, Tom Verlaine, Cookie Mueller & Jean-Michel Basquiat. 
Margaret Arfaa, Second Censor of Penn's Philomathean Society, will MC this event.
Admission is FREE & Open to the Public. 

This event is in-person at The Rotunda but it will also be streaming so you can catch it online if you can't join us at the venue. The direct link to the livestream is https://youtube.com/live/W4g5vA4v8s4?feature=share