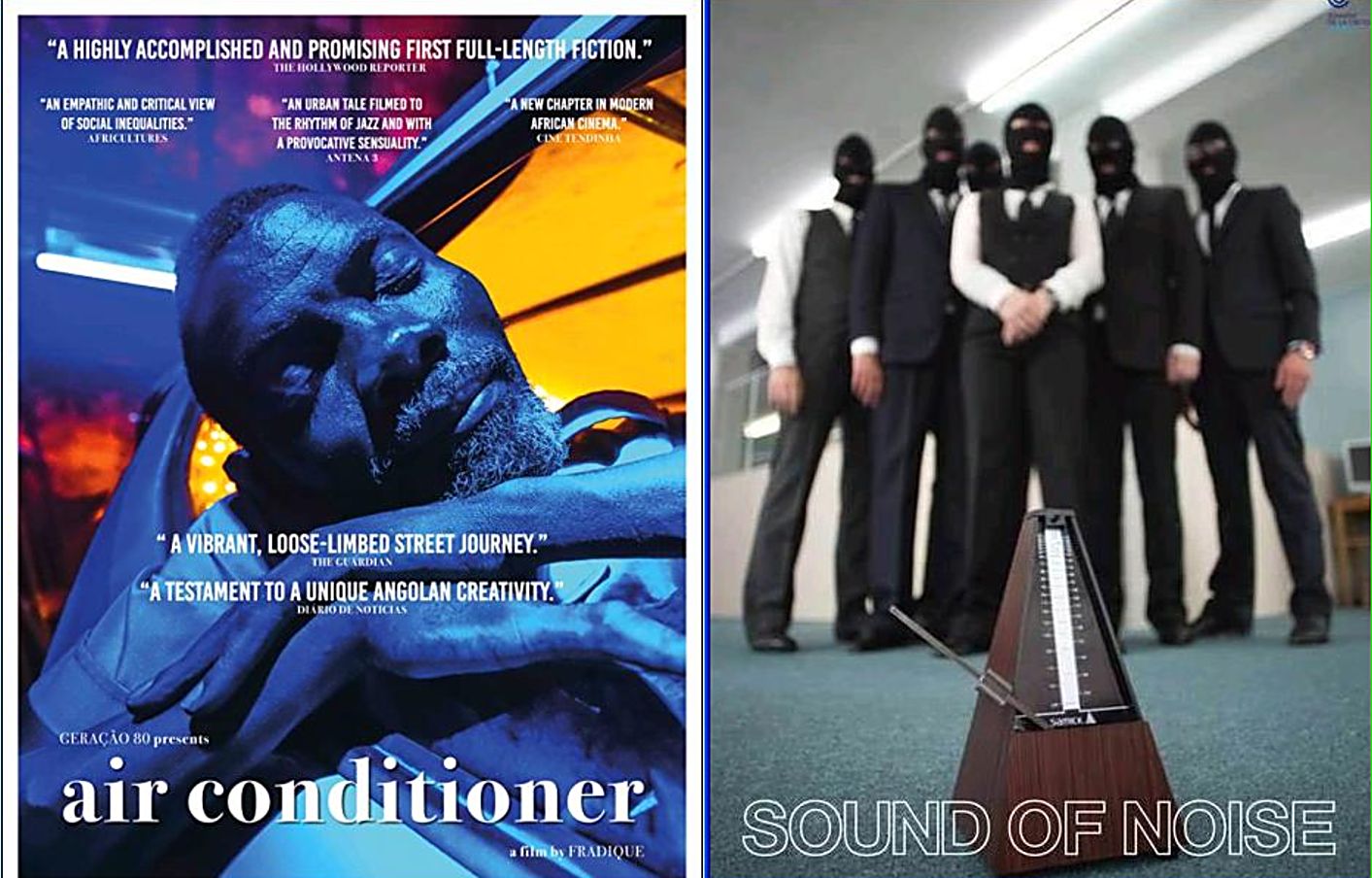 BRIGHT BULB SCREENINGS, Free Double Features Every Second Thursday of the Month
Follow Bright Bulb Screenings on Facebook, Instagram
The Rotunda (4014 Walnut, Philly) - Thurs. April 13th, 2023, 7pm
Two Clever, Amusing Fantastical International Features!
AIR CONDITIONER (2020, directed by Fradique, 72 minutes, Angola)
SOUND OF NOISE (2010, directed by Ola Simonsson and Johannes Stjärne Nilsson, 102 min., Sweden)
- - - -
AIR CONDITIONER us an indescribable small wonder. At just over an hour in length, native director Fradique introduces us Angola's bustling capital Luanda, its haunting and beautiful landscape traversed by the easy-going security guard Matacedo (Jose Kiteculo). It's the middle of summer and his boss' air conditioner needs to be hauled in for repair but as the local radio station reports, there has been a mysterious rash of air conditioners dropping from daily from the city's windows. Matacedo will discover there indeed is more here than meets the eye.
Fradique's sustains a magical realism with great finesse that quietly and poetically reveals the soulful history of the place and its people. Aline Frazao's score is particularly striking, a fusion of jazz made new with indigenous instrumentation.
"Fradique's gently freewheeling slice of science-fiction-inflected urban strangeness...has the logic and pace of a dream"
- Hollywood Reporter
"The tech may be on the blink, but this striking debut makes humanity seem like a beautiful malfunction."
- The Guardian
"This is like nothing you've seen anywhere else."
The Irish Times
- - - - - -
SOUND OF NOISE is an 2010 epic Swedish comedy that seems made to tickle the imaginations of every slightly-disgruntled musician. We meet our musical antagonists as the pair of expelled music students creating a song while barreling down the highway: one hammering away with a drum kit packed into the old van, the driver playing the sounds of the engine accompanied by the whir of the tire hitting this warning slits on the pavement's shoulder.
Crashing the van, the pair move on to creating an epic public four-part piece for six drummers (all hilariously recruited), each segment creating music of dangerous means with the noise of objects on-site. They're being pursued by a police detective named Amadeus, a profoundly unmusical man born into a prestigious musical family, including his younger brother, the local orchestra's conductor.
Writer/directors Ola Simonsson and Johannes Stjärne Nilsson do a fantastic job sustaining a tricky state of whimsy, juggling its eccentric cast of character and creating a quartet of wildly theatrical, highly rhythmic set pieces, each piece successfully topping the last in scope and musical madness. It is safe to say, you've never seen a musical quite like it.
"Part quirky comedy, part existential mystery, part flash-mob musical."
AV Club
Masking is encouraged. Seating is limited.
- 100 people MAX will be permitted in the venue during an event. This includes audience and staff.


Follow brightbulbscreenings on Instagram, Facebook