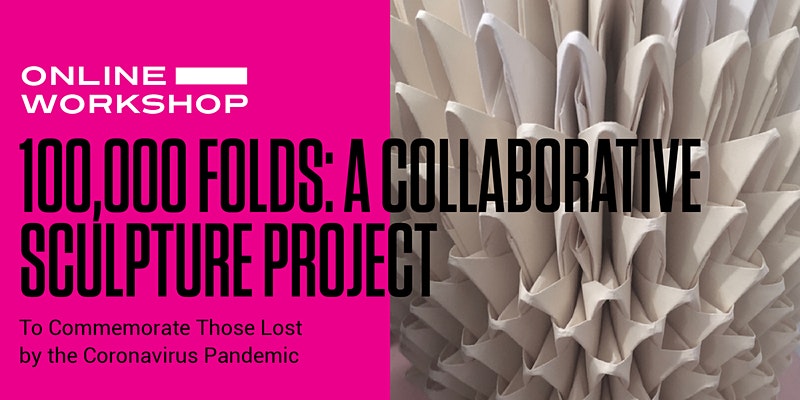 A Collaborative Sculpture Project to Commemorate Those Lost by the Coronavirus Pandemic
About this event
Join 100,000 Folds in honoring and mourning COVID-19 victims through origami. This community sculpture project is folding 100,000 pieces of paper - one for each of the first 100,000 deaths in the United States from the pandemic. During this event, gather virtually with artist Joanna Hutchinson to learn to make the folded pieces, and build community while folding with others. The folded paper units will be assembled into larger sculptures to be displayed in Philadelphia upon completion, when it is safe to do so. Participants in this online folding session will get a sneak preview of some of the plans for the final sculpture. Participants will receive a package of 50 custom cut sheets of paper to fold during this event, sent to the mailing address provided through the USPS. After the event, participants are asked to send their folded work to the artist by USPS. This online event requires students to have a device to join the class with reliable internet access. If you are interested in participating in the project, but not the online event, you can sign up to work independently at 100thousandfolds.com.
About the Instructor
Based in West Philly, Joanna Hutchinson is a part-time sculptor, avid crafter, and enjoys a career in finance. She likes bringing people together: for friendship, community, and art making. 100,000 Folds is a way for the artist, and others, to mourn and reflect around the coronavirus crisis.
Cost
This is a free event, but donations are welcome. All donations will go to support PHL Covid-19 Fund, supporting community efforts to help those directly affected by the Covid-19 pandemic. Registration is required to receive the Zoom link. Please register at https://www.eventbrite.com/e/100000-folds-a-collaborative-sculpture-project-tickets-152174029619